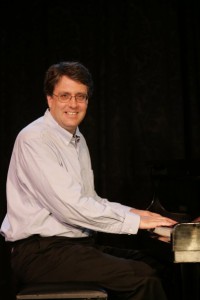 Joshua Rosenblum is a composer, conductor, and pianist with wide–ranging experience in classical, contemporary and theater music. For the theater, Rosenblum wrote the score to the cult hit musical Fermat's Last Tango, which had a critically acclaimed Off-Broadway production at the York Theatre Company, and received its international premiere at Lisbon's Teatro da Trindade. He is also the composer and creator of BUSH IS BAD, the smash Off-Broadway musical revue, as well as the composer/lyricist of Fermat's Last Tango, Einstein's Dreams, Garbo and Me, and The Haunted Hotel (winner of a development grant from the Signature Theatre), as well as Mark Felt, Superstar, the musical saga of Watergate's "Deep Throat."  Recordings of his instrumental music include Impetuosities—Music of Joshua Rosenblum, and Sundry Notes, both available from Albany Records. Rosenblum has also composed two ballet scores for choregrapher Chase Brock and The Chase Brock Experience.
As conductor, Rosenblum has led the orchestras for thirteen Broadway and Off-Broadway shows, with a specialty in flying vehicles (Miss Saigon, Chitty Chitty Bang Bang, How the Grinch Stole Christmas). Other conducting credits include guest appearances with the New Jersey Symphony Orchestra, the Brooklyn Philharmonic, and the American Repertory Ballet, as well as the soundtracks to five major motion pictures. He is also the founder and music director of the critically acclaimed Pit Stop Players, an eclectic and genre-defying chamber ensemble.
As a pianist, Rosenblum has appeared with the New York Pops at Carnegie Hall, the New York Chamber Symphony, the New Jersey Symphony, the American Symphony Orchestra, and the City Center Encores! series, among others. He has also performed with Daniel Rodriguez (the "singing policeman") and Karl Scully of "The Three Irish Tenors."  Additionally, he and his wife, soprano Joanne Lessner, have concertized extensively in recitals of art songs, cabaret songs, and Rosenblum's original compositions.
A summa cum laude graduate of Yale College and the Yale School of Music, Rosenblum now teaches Composing for Musical Theater at his alma mater. Rosenblum and Lessner are the proud parents of  Julian, a Yale University sophomore, and Phoebe, a freshman at New York's LaGuardia High School.